The Comfort and Convenience of Heated Floors
Radiant floor heating systems have become even more efficient and affordable to install in recent years. Radiant heated floors feature a programmable thermostat so you can program the floors to warm just moments before you wake up in the morning and only at times when you need. And each room or zone can be controlled separately by its own thermostat. Electric underfloor heating systems are virtually maintenance free and surprisingly easy to install.
Heated Bathroom Floors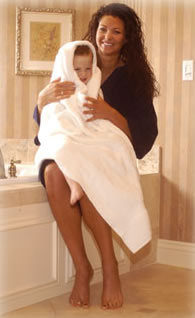 While heated floors can be installed throughout your home, many homeowners opt to install radiant heat in select rooms to supplement the existing heating system. Installing a radiant heated floor in bathrooms is particularly popular. No longer will you have to endure stepping out of the shower and on to a cold tile floor. Radiant floor heat transforms your chilly bathroom to a warm oasis that no longer has to be avoided by bare feet.
There are two types of floor heating system technologies (electric and hydronic). Electric radiant floor heating systems are typically used for heating bathroom floors and other small rooms. Electric heated floors feature a rapid response time, so your bathroom floor heats quickly, evenly and efficiently.
Heated Kitchen Floors
Another popular room to install heated floors is in kitchens; after all, most people spend considerable time in their kitchen, which is why it should be a comfortable, inviting room. Regardless of whether your kitchen floor is tile, hardwood or laminate, you can enjoy the benefits of radiant heat.
While most floor heating systems are installed in new construction jobs, homeowners also have the option of heating existing floors. The heating element and insulation can be installed in the floor joists below. So if you are looking to spice up your existing kitchen floor, check out Warmzone's RetroHeat and FloorHeat radiant floor heating systems. For new construction jobs, ComfortTile floor heating mats and cable is the most trusted floor warming solution.
Relax and discover the many benefits of heating your home with radiant heat. Install a floor heating system in your kitchen, then kick off your shoes and enjoy the comfort of radiant heat while you cook and dine.