How Radiant Heat Works
How Radiant Heat Warms Floors, Homes — and Soles
The first time I had the pleasure of walking barefoot across heated floors, I marveled at the sensation of warm tile greeting the soles of my feet with every step. Radiant heated floors are about more than warm feet—they are an impressive alternative to traditional heating solutions. Radiant heat is a unique transfer of energy that naturally searches out colder objects to warm. Instead of rising like warm air from forced air heating systems, radiant heat starts by warming the coldest and closest objects from its source. The most common radiant heated floor systems are hydronic and electric. Which one you choose depends largely on the application, square footage and your budget.
Hydronic radiant heated floor systems use a boiler to heat water. An electric pump then circulates the water through special PEX tubing installed under the floor of your home. The complexities of installation (installation requires a contractor) and the upfront costs associated with purchasing the system may be cost prohibitive for smaller home improvement projects. But those with larger projects will find that a hydronic floor heating system may still be less expensive to install and operate.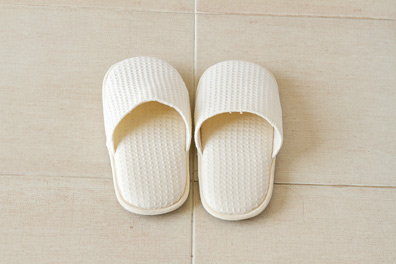 When an electric radiant floor heating system is turned on, energy forced through a conductive material (heat cable or heating element) creates resistance or heat. Some electric radiant heated floors use low-voltage systems, which utilize a step-down transformer to reduce voltage supplied to the heated materials. Safe and efficient, electric under floor heating systems are more practical than hydronic systems for heating smaller and custom shaped areas, and require less upfront costs. Electric radiant floor heating systems are also likely to have a quicker response time than hydronic systems. The system begins heating up a room as soon as you adjust your thermostat.
Due to its safe low-voltage current (8-30v), electric radiant heat products like FloorHeat, can be safely nailed down and stapled down to secure the product to the floor, making them a practical choice for installation under wood, laminate and a variety of hard surfaces. Products like Warmzone ComfortTile floor heating mats also make electric heated floor system installations a great project for a do-it-yourselfer. ComfortTile floor warming mats feature cable that is pre-spaced on an adhesive-backed fiberglass mesh, that can be quickly rolled out and installed to your home's unique specifications.
Radiant heated floor systems, whether hydronic or electric, offer some big advantages over traditional forced air systems. Due to the nature of radiant heat, the response time to heat a room is shorter. With a radiant heated floor system, the heat is room specific—thermostats can be programmed to heat up a specific room, or the whole house, saving you from unnecessary heating costs. Because it's installed under the floor surface, radiant heat it is unobtrusive compared to forced air systems utilizing vents. There's no unwanted hair, dust and other contaminates blowing around your home. And these self-contained systems are virtually maintenance free.
With rising fuel costs and lagging home values, radiant heated floors are a great way to save money and boost home equity. Warmzone offers the experience, expertise, and portfolio of superior performing radiant heat products. To find the best radiant heating system for your floors, call 888.488.9276 or contact us to submit your specific project requirements and receive a free quote.